Despite its many foibles, I generally love Twitter. It may be the place where productivity goes to die, but I also find it supportive, funny, friendly and intelligent. I guess it's who you follow, right?! Twitter is what you make it.
But the other day, I saw this image being widely retweeted, which made me want to switch off. Call me over-sensitive (as many have and will), but I found it pretty patronising.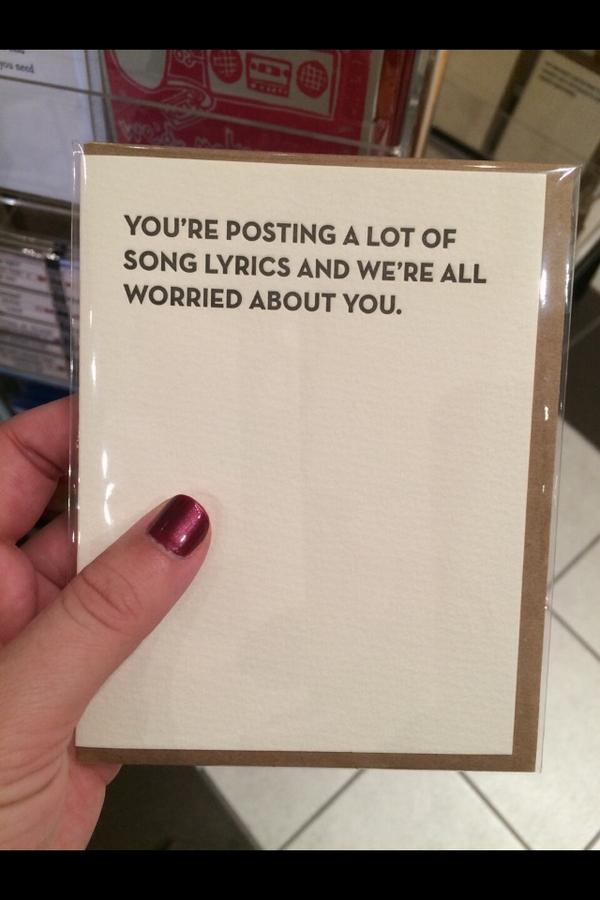 Because I love song lyrics, find them meaningful and inspirational, and sometimes the only thing that can keep me going when my mental health is having another wobble.
If I sometimes post them, or use them as inspiration for art, then I don't see why I should expect false concern in return. We don't mock people for writing poetry, or speaking plainly about how they feel.
So why this?
Granted, social media should never take the place of a psychologist, and those of us who started using Facebook as teenagers have learned the hard – and maybe bloody embarrassing – way that online updates aren't the place for your inner turmoil.
So yeah, if your own timeline is more emo nostalgia than interesting or funny, then
maybe log off and go outside for a bit. Everyone wins.
And yet. Personally, I love the fact that sometimes, you can post something
indirect, and connect with other people over it. Song lyrics, for example.
For so many people, myself included, song lyrics are the expression of emotions that
sometimes feel too hard to write. It's a truism that you can often sing far simpler,
far more direct things than you can say. I've always been someone who can fall in
love with a song simply because it said something – however deep or however
frivolous – that I couldn't, or didn't know how, to articulate.
And if that speaks – or more accurately – sings to me at a particular time, then I
don't want to feel like I have to apologise for it. Or think that someone will post a sarcastic response if it's not representative of their experience. It's very "I'm all right Jack, my life's going great right now, so please refrain from posting song lyrics that I find uncool, you're bringing down my timeline, yeah?"
I mean, personally, I don't even POST song lyrics, as such. But I do listen to music
every single day, and experience lyrics profoundly. A single line can genuinely
bring me to tears, laughter, contentment or total serenity, and that means so much.
Also, some of my most expressive painting ideas come from song lyrics, or feelings
that songs create. Why are lyrics seen as something to be mocked, but poetry or lines from literature are fine?
Many song lyrics may not be necessarily comparable, linguistically, to literature –
but as Mary Beard recently said (in the Evening Standard magazine, if I remember
correctly) studying "low art" as well as "high art" doesn't mean that you're saying
one is the same as the other, or better. Just different. And if Mary Beard said it,
that's good enough for me.
If lyricists can put into song what I sometimes can't write, then fantastic. Finding
a song that says exactly what you were thinking is cathartic, eye-opening, and makes
you feel part of something. Music is incredible, and lyrics are part of it. What
could be wrong with that?
Online arenas shouldn't be a replacement for therapy, or somewhere to
vent your frustrations, within reason. But if some songwriter, somewhere – whether
legendary, respected, teenage, or just-in-the-charts – manages to express something
better than you yourself can, then why not?
Post it. Write that tweet. Paint that painting. Quote that quotation. And don't
mock, or chide anyone else who does, too. If it's not for you, unfollow, unfriend, mute, and move on.
As more and more of us see online spaces as an extension of ourselves, they
shouldn't become yet another "cool table", at which you can only sit if your humour,
feelings and music choice are deemed sophisticated enough for a chosen few. It's the same reason that I find the widespread mocking of the phrase "u ok hun" pretty insulting too.
I mean, I get it: a lot of people are annoying online. But sometimes, all people need is to feel noticed, to feel that someone cares if they're OK. Yes, there's a balance – no-one likes those constantly, dreary-for-no-reason, purposefully attention-seeking statuses. But a song lyric can bridge that gap between being whiny, and saying something that is really meaningful to you.
In today's society, where poll after poll shows that loneliness in young people is rife, if posting song lyrics – or even a painting of them – DOES elicit a friendly response from someone, and brightens up that person's day for a bit, then what the heck is wrong with that?
I refuse to subscribe to this idea that unless you're being unremittingly negative or dark, then you're being "annoying".
Don't reduce people's feelings – or their braveness in revealing them – to a mocking, pretend-concern, sneering greetings card. Because the only thing more insincere and cynical than someone seeking sympathy online, is someone mocking that in response.
And never mind song lyrics, it was one indisputably great writer who said it
best: If music be the food of love, play on.
Only then can we fully express the feelings we have, until they might no longer trouble us. And we can feel all the better for it.